You will be happy to know that these apps are better for taking real photography. So without extra ado, let us see the Best Free Photo Editing Apps for IOS, Android
1. Snapseed – Android, iOS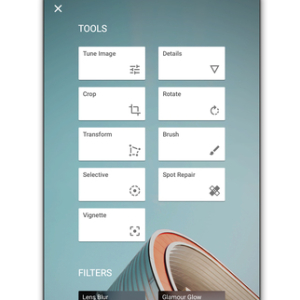 Snapseed is a photo-editing application produced by Nik Software (a subsidiary of Google) for iOS and Android that allows users to enhance photos and apply digital filters.
Snapseed users can edit pictures using swiping gestures to select different effects and enhancements. Alternatively, users can opt for an "automatic" adjustment of color and contrast. Snapseed can save users' editing history and redirect to any of the actions before. It can also create and save filter combinations by using the default filters and editing features. The list of special effects and filters includes Drama, Grunge, Vintage, Center-focus, Frames, and a Tilt-shift (which resizes photos). Snapseed 2.0 introduced new filters such as lens blur, glamour glow, HDR scape and noir, while also reformatting the tools section with a clearer user interface.
2. Pixlr – Android, iOS
Pixlr is a cloud-based set of image tools and utilities, including a number of photo editors, a screen grabber browser extension, and a photo sharing service. The suite was intended for non-professionals, however the apps range from simple to advanced photo editing. It can be used on PCs, and on smartphones or tablets using a mobile app.
3. Camera+ – iOS Paid
Camera+ is an app for Apple's iOS mobile operating system developed by tap tap tap. The app serves as an alternative to the standard iOS camera app, primarily adding basic and advanced editing tools (including special effects and lighting filters), an image stabilizer, and integrated sharing with Facebook, Flickr, and Twitter.
Camera+ has received generally positive reception; PC Advisor gave the app 4-and-a-half stars out of 5 and declared it a "must-have" app for iPhone photographers, praising its advanced editing functionality for allowing users to "(make) poor snaps into great photographs that will wow your friends".
4. Hipstamatic Classic – iOS Paid
Hipstamatic is a digital photography application for the Apple iPhone and Windows Phone sold by Synthetic Corporation. It uses the phone's camera to allow the user to shoot square photographs, to which it applies a number of software filters to make the images look as though they were taken with a vintage film camera. The user can choose among a number of effects which are presented in the application as simulated lenses, films and flashes. Several of these are included with the application, while others may be acquired through an in-app purchase.
Hipstamatic is part of a retro trend in photography, which has seen a rise in the popularity of cheap and technically obsolete analog cameras (such as Lomography and Polaroid instant cameras), as well as software filters and smartphone software that emulate such cameras. Other vintage photography applications include CameraBag and Instagram. Like Hipstamatic, they often include social networking features. Some phones include similar built-in filters.
5. Retrica – Android, iOS
Want to take amazing photos? Stand out from the crowd – make your photos POP! Retrica will transform your photo experience into something truly memorable. Choose how you want to remember that great view from your trip, or that delicious meal you shared with a friend.
With Retrica's live filters, you can preview how your photos will look, before you even take the photo! Retrica also comes with trendy logos to make your photos more noticeable. And with over 100 filters, you'll never run out of options. More than 100 million photos are taken per day with Retrica.
Set the time interval, and take consecutive photos using the collage feature; it's like being in a photo booth! Take fun and quirky pictures with your friends. You have the option to add Retrica's watermark logo, so everyone can see the fun you're having with Retrica.